Saturday, December 24, 2022
Happiness Is Homemade Party
Merry Christmas! Welcome to Happiness Is Homemade Link Party. What a special day. I hope your day is joyous and that you are blessed. I know that this storm has caused a lot of severe cold and outages. Be safe and stay warm.
Before we start with the party, let's celebrate our featured posts from last week!
Featured Posts
Cabinet Door Upcycle: DIY Reversible Christmas/Welcome Porch Sign
This beautiful painted cabinet door comes from The Vixen's Den. Such a creative way to upcycle a cabinet door into a Christmas decoration.
A cute Christmas potpourri to spice up your Holiday! It's coming from one of our host, Linda - A Labour of Life.
How to Make Stovetop Potpourri Christmas Gift Jars
Who wouldn't want to receive this lovely Potpourri Christmas gift from Kristie - Love My Little Cottage. Find out how she made it.
6 Ways to Make Snow Globe Cookies
Ann's Entitled Life has these adorable Snow Globe Cookies. Perfect for Holiday's treats.
Bonus Featured Post
A New Year Dinner Party will look amazing with this table arrangement from Decorative Inspirations.
On to the Party!
Thank you for joining us this week whether you are a blogger sharing your latest posts OR a reader enjoying all of the inspirational shares! Don't forget to drop by and say hello to all our hostesses, they always appreciate your visit! Here are all of our hostesses at Happiness Is Homemade!
Linda @ A Labour of Life
Sinea @ Ducks 'n a Row
Beverly @ Eclectic Red Barn
Katie @ Love My Messy Messy Mess
Mel @ Décor Craft Design
Niki @ Life as a Leo Wife
Would you like to be a part of Happiness Is Homemade? We are looking for hostesses to join our team. If you are interested, please email any one of the Happiness Is Homemade hostesses and let them know. We would love to have you join our party.
Friday, November 4, 2022
Happiness Is Homemade Party
Happy Sunday! Did you remember to turn back your clocks? 
I hope your weekend is going well. Although Thanksgiving is still a few weeks away, I decided to make this week all about desserts. After all, what is Thanksgiving without dessert on the menu. 
I hope you find some inspiration with these yummy desserts or maybe share one of yours. I am always in the mood for dessert!
On to the party!
Saturday, April 3, 2021
Welcome to Happiness Is Homemade Party
Happy Easter everyone! I hope you have a very blessed day. I know that we may not be able to be with all of our loved ones, but know that they are thinking of you and you are thinking of them. 
We are gathering with inlaws, a couple daughters and their families. It will be nice to be spending this time together. We have all had our shots except for the teenagers, but we will be careful just the same.
Take care my friends and rejoice in that the Lord has risen!
Sunday, March 28, 2021
Welcome to Over The Moon Party
Happy Sunday. I hope you are having a lovely weekend. I want to apologize for not returning your comments this past week. it has been a crazy week. My fathr0in-law is going to celebrate his 92nd birthday on this coming Tuesday. So my husbands brothers and their families came down on Wednesday and are here until next Wednesday. There are 15 of us so I have been cooking and cooking. My sister is gluten free so I have had to adjust my recipes and find new ones. 
Needless to say, they are consuming my time. So forgive me for not returning your comments. I do read them. 
I picked some Easter features this week.  I hope you enjoy them. 
 I hope you have a great week ahead.
Tuesday, March 23, 2021
Welcome to Wonderful Wednesday Blog Hop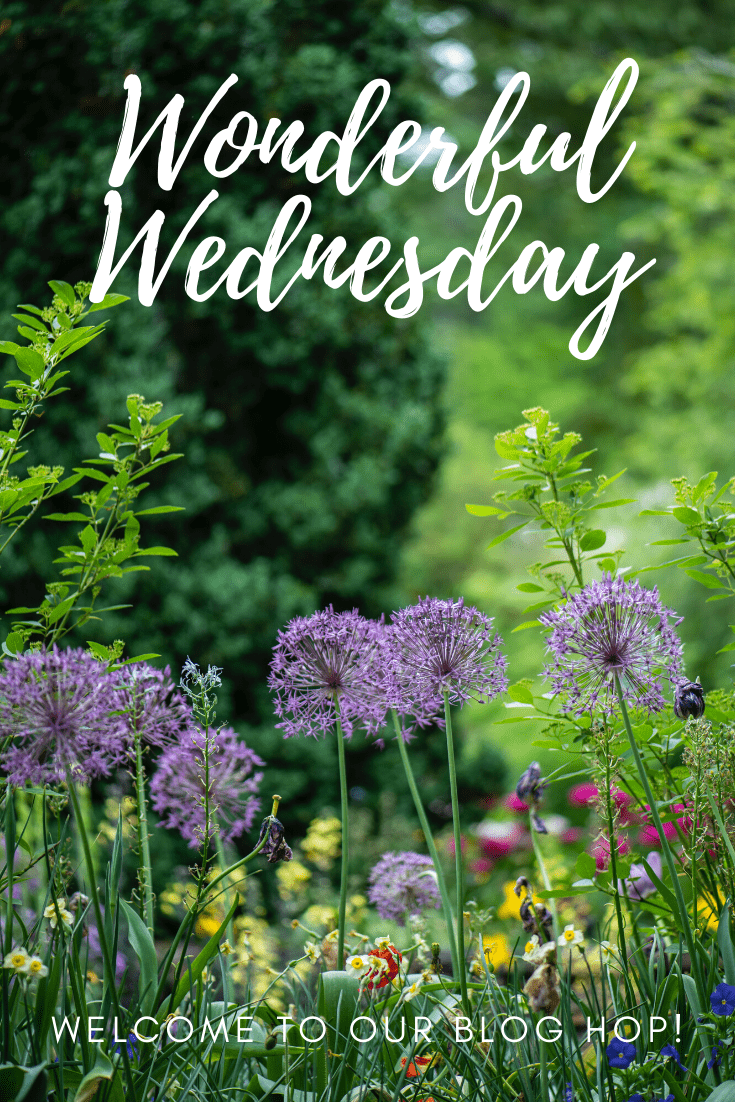 Welcome to the party. I hope your week is off to a great start. Spring is here and love is in the air. Each spring, birds decide that our garage is the perfect place to make a nest and raise their babies. We keep the door often all day but close it at night.
They go in an out and the dogs don't seem to bother them. Last year we knew where their nest was, but this year I haven't found it. We have some ideas, but they can really hide those babies. They never make a sound. Last year I saw three of the babies. Don't know if that was all of them or not. They were hoping around the garage as they made their way out of the garage. So cute.
We appreciate you stopping by each week and participating in the blog hop. Before we start our main event, let's take a look at our features from last week's party.
100-Year-Old Modern Vintage Home Tour
Colorful Easter Tablescape
And, now, let's get this party started! We would love it if you would invite your followers to join us. When you do, remember to use the hashtag #WWBlogHop!
DUCKS 'N A ROW [Sinea] – FACEBOOK | INSTAGRAM | PINTEREST | TWITTER
ECLECTIC RED BARN [Beverly] – FACEBOOK | INSTAGRAM | PINTEREST | TWITTER
Please TWEET our party
♥
Add as many of your family-friendly posts as you would like to. No Etsy shops, adult sites, or blog parties, please.
Visit others. Let them know you stopped by!
If you are NEW to Wonderful Wednesday Blog Hop, let us know in the comments so that we can follow you back. ♥ Help us find your posts – tell us the title.
NOTE: party entries appear in REVERSE. i.e. the most recent entry goes to the top! That way all of our guests will have a really good chance to be seen no matter when they arrive.