Saturday, December 11, 2021
Happiness Is Homemade Party
Welcome to Happiness Is Homemade Link Party
Happy Sunday! I hope your weekend is going well. I mixed up 5 batches of cookies yesterday and plan on 2 more today. Then I can start to make them. I am providing the cookies for a girls get together from our zumba class on Thursday. It should be fun.
Have you started to bake yet? Do you bake? I wasn't going to make so many cookies, but just got carried away. At least I can give lots out so I don't have much to eat. lol!
On to the party, let's enjoy all of this week's Christmas features. From Christmas recipes, DIYs to Christmas decor; all are fantastic Christmas ideas. So, link up and share your ideas too. And for readers, find inspiration in each of our parties. Don't forget to stop by each of our super talented co-hosts and host to find out what they're up to lately.
Let's start with the features…
FEATURES
Chocolate Macaroon Filled With Milk Chocolate
It looks pretty and delicious! Who wouldn't want that for a party, especially for Christmas? Well, find out on how to bake it at Claire Justine, she will guide you through her recipe.
Another Christmas treat idea for us, this enticing punch is coming from Wanderlust and Wellness. She promised that it would be easy to prepare this red Christmas drink; then why not have a try?
This beautiful wreath is coming from one of our creative co-host, Beverly from Eclectic Red Barn. I love how she did a fantastic job upcycling a pallet and turning it into a gorgeous Christmas wreath. Visit her for the tutorial.
30 CHRISTMAS COFFEE & HOT COCOA BAR IDEAS
Look at all these fun coffee and hot cocoa bars from Alexandra, On Rockwood Lane. These bar ideas would be fun for kids and adults. Perfect for Christmas and the rest of winter treat. And it comes in 30 different bar ideas! Can you imagine that! You can choose your favorite and be inspired to make one at home.
BONUS FEATURE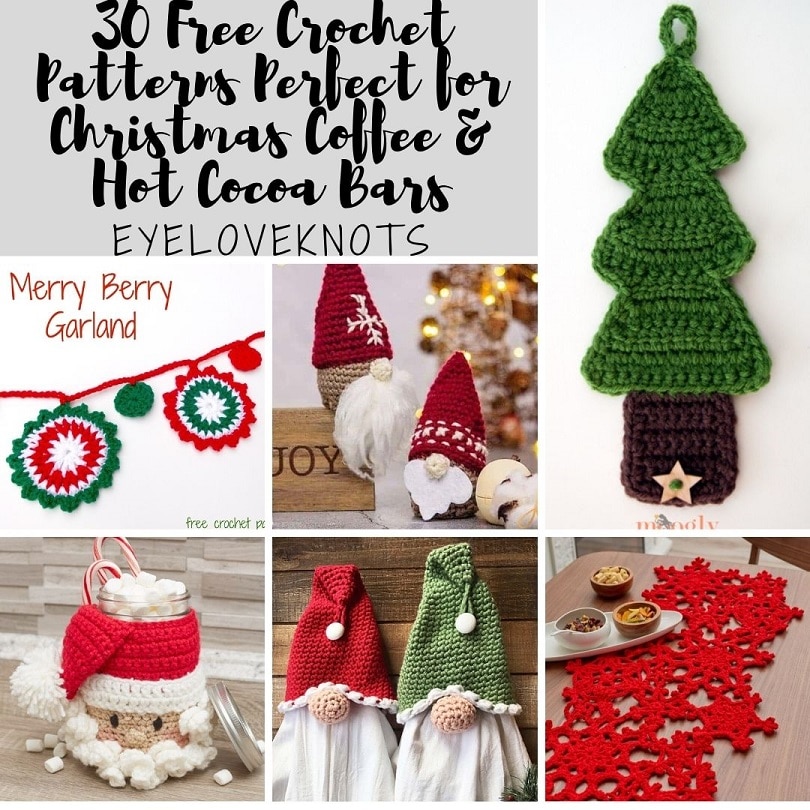 30 FREE CROCHET PATTERNS PERFECT FOR CHRISTMAS COFFEE & HOT COCOA BARS
As usual, I have a bonus for you, coming from Eye Love Knots, cute crochets to decorate your coffee and cocoa bar. Also comes in 30 free patterns! I'm sure you still have time to make at least one of it before Christmas. Enjoy it!
Thank you for joining us this week whether you are a blogger sharing your latest posts OR a reader enjoying all of the inspirational shares! Don't forget to drop by and say hello to all our hostesses, they always appreciate your visit! Here are all of our hostesses at Happiness Is Homemade!
Linda @ A Labour of Life
Sinea @ Ducks 'n a Row
Beverly @ Eclectic Red Barn
Katie @ Love My Messy Messy Mess
Mel @ Décor Craft Design
Niki @ Life as a Leo Wife
Would you like to be a part of Happiness Is Homemade? We are looking for hostesses to join our team. If you are interested, please email any one of the Happiness Is Homemade hostesses and let them know. We would love to have you join our party!
You are invited to the Inlinkz link party!