Monday, July 24, 2017
Key Lime Macaroons
We love key limes and I have a key lime tree that is producing like crazy. So I am making lots of recipes with key limes like these Key Lime Macaroons.
We came home from vacation and I harvested 40 key limes on Sunday, just off the ground. I juiced all of them and put the juice in the freezer.
Then on Wednesday, I got another 60 key limes. Here is some of them. My key limes are pretty big and yellow as they ripen.
The tree is so loaded that the branches are hanging down and we had to prop up the branches so they wouldn't break.
I decided to make these macaroons. The great thing about this recipe is that they go together so quickly.
My biggest problem in making these macaroons was trying to find green key limes to grate on top. All of mine are yellow. They all seem to be ripening at the same time.
I keep asking all of my neighbors and friends if they want them. You can only use so many.
Recipe Print
3 1/2 cups sweetened coconut flakes

1 (14oz) can sweetened condensed milk
Combine sweetened coconut flakes, flour, salt and 2 Tbsp key lime zest in a bowl. Mix thoroughly.

Add key lime juice and sweetened condensed milk. Mix well with a spatula.

Using an ice cream scoop (about 1½ Tbsp), scoop cookie dough balls onto a greased or lined baking sheet. Sprinkle the tops of the raw macaroons with the extra key lime zest on top.

Bake at 350*F for 12-15 minutes or until the edges and bottom of the cookies are browned. Allow to cool completely
Featured at:
Linking to these posts: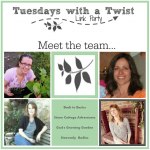 >