Monday, September 14, 2020
Welcome to You're The Star - Creative Feature Week
Happy Monday to you! I hope you had a wonderful weekend. Ours was very nice but we did have lots of rain. We have had to drain our pool 7 times in the last 6 weeks because of so much rain. Crazy, right?
What did you do over the week end? Did you have to drain your pool?  lol! Well, maybe you worked on a project. I hope you share it with us if you did. Have a great week ahead.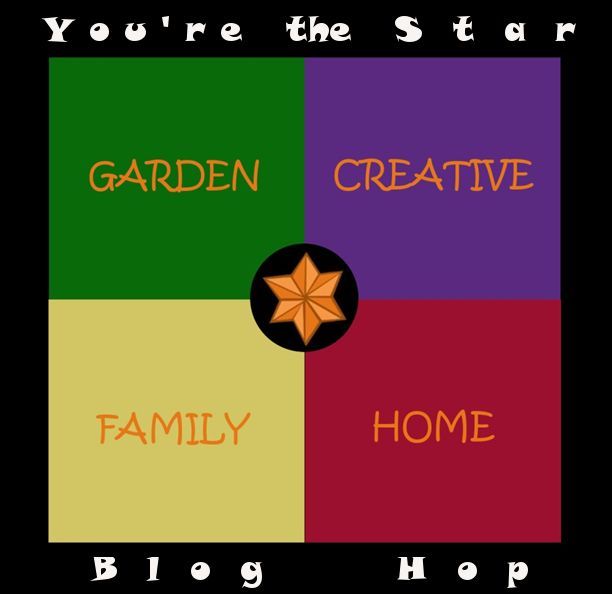 Welcome to the second week of the September 2020 blog hop called "You're the Star"!
Before we continue onto the Linky party I wanted to share this post from my blog:
Glazed Apple and Pecan Bread
Sunday, September 13, 2020
Glazed Pecan and Apple Bread
Sometimes you want to make something and you don't have all the ingredients that you need.  I had this one apple and remembered a post about an apple bread. 

I checked out this  recipe Glazed Apple and Walnut Bread  over at  I should be mopping the floor, that called for one apple.  I had all of the ingredients except for walnuts. However, I did have pecans so that would have to do.
Welcome to Over The Moon Linky Party
Happy Sunday! I hope you are having a great weekend. We are doing fine. We just would like to have less rain. I know that up north has not had much rain, I wish I could send some up there. The mornings are pretty good, but then the clouds roll in and the rain begins. Sometimes, it is just enough to wet everything. Then I have to wait until it dries to work outside. I have been sewing when the rains come. I will be sharing those projects soon. Have a great week!
My favorite part of these parties is reading your comments. I feel like I get to know you and that we are almost like "texting" back and forth. You share your stories with me and I share mine - just like friends.  So keep them coming.
Welcome to Happiness Is Homemade Linky Party
Happy Fall y'all.  Hope you are having an amazing week and have been creating like crazy.  This week I have branched out to a few new areas for our features. A crochet project, a fun garden inspiration and some tasty fall treats. All this to inspire you to share your favorite creation this week for Happiness is Homemade.
Thursday, September 10, 2020
Welcome to Thursday Favorite Things!
Happy Thursday my friends. I hope you had a wonderful Labor Day Weekend and that your week is going well. My daughter and I went shopping for house paint. She wants to paint her house and of course we said we would help. She wanted white with black trim. Do you have any idea how many shades of white there are? Grey undertones, green undertones, yellow undertones and the list goes on. She finally picked something that seems to be white with a little cream. We won't start to paint until the weather cools down some - October probably but the paint was on sale and we wanted to get it. 
It is a ranch house so should not be too hard to paint. We painted ours after we moved in and it is much bigger so I think we can handle it. Most people will be getting ready for fall and we will be painting!!!
Many of my features come from you my commenters. Don't forget to leave your 
Linkup Number or Post Title
 so I can find you and you could become one of my featured commenters next week.