Monday, October 7, 2019
Welcome to You're The Star - Garden Feature Week!
Happy Monday! I hope you had a fantastic weekend. I was able to spend it with my Mom and my sister here in PA. For the most part, the weather was so wonderful. We had a little rain today and more coming tomorrow but then it clears up. 
Have a great week and don't forget to add your posts and then maybe show some love to some other bloggers.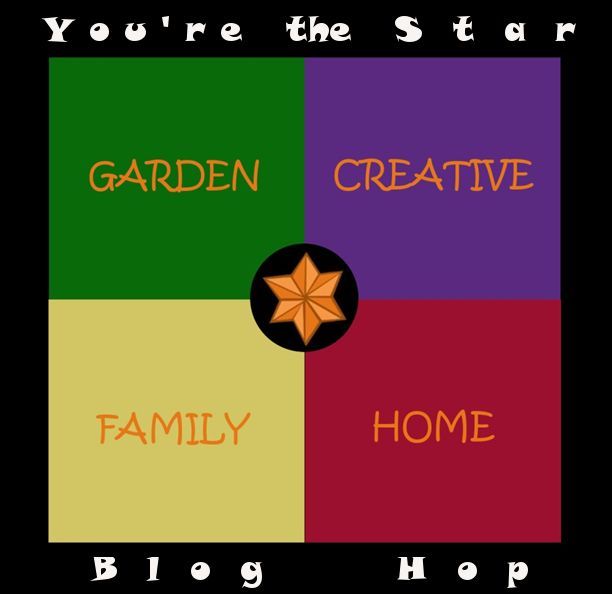 Sunday, October 6, 2019
Need a Quick Halloween Vignette?
Halloween is rapidly approaching and I am still decorating. I wanted a quick and easy vignette for my kitchen table. So I checked my stash, painted a little, added a little and this is what I came up with. 
Welcome to Over The Moon Linky Party
Happy Sunday!  I am still up north. Our trip took a little longer than we had hope - 15 1'2 hours. the dogs did fine but we were very tired. We are staying with my in-laws and enjoying the cooler weather. Today was a high of 75, now that is fall weather for me. 
I even bought some pumpkins to take home. As we were driving here, we saw fields of pumpkins that they had picked and lined up ready to be picked up. We saw lots of trucks loaded with boxes of pumpkins. I took this one picture but we were moving so fast that you can't see the pumpkins too well.
I hope you enjoy checking out my features and all of the amazing posts. Have a great week ahead.
Welcome to Happiness Is Homemade Party!
Hi everyone! I hope your weekend is going well. I am out of town visiting my family in Pittsburgh, PA. The weather has been awesome - around 75 today. I think it is to rain tomorrow, but that's OK. How is your weather? Any cooler?
We have a wonderful party for you and I look forward to seeing all of your posts. They are always great but this time of year they are extra special.  Keep them coming!
Check out the amazing features chosen for this week and a note from our hostess for the month - Linda.
Thursday, October 3, 2019
Welcome to Thursday Favorite Things!
Happy Thursday everyone! I hope your week has been great.  We are driving to Pittsburgh, PA today. I used to drive this all the time but lately we have not driven and I am not sure how much I like driving with three dogs. So far they are being very good but 13 1/2 hours is long and that doesn't include stops. 
I want to see my Mom who is 94 and still going strong and my little sister. They are supposed to have cool weather so I am looking forward to that. 
Many of my features come from you my commenters. Don't forget to leave your 
Linkup Number or Post Title
 so I can find you and you could become one of my featured commenters next week.