Sunday, June 9, 2019
Sausage Stuffed Mushrooms
We discovered that there is a mushroom farm near us. My husband bought some sliced mushrooms a few weeks ago. A large package, 16oz, of portobello mushrooms was $1. Then last week he went to get some more and they were bringing in containers of whole portobello mushrooms and bought me a box.  I wish I had taken a picture of the box when he brought it home. It was piled high with these beautiful, large mushrooms. 
I sauted some with our beef tenderloin, added some to a meatloaf and put them in our burgers. I 
even made some stuffed mushrooms. 
Welcome to Over The Moon Linky Party
Happy Sunday. Hope you had a lovely weekend and wishing you a lovely week ahead. So we decided to do some yard work. Seemed harmless, but went down hill after I wasp bite me on Friday afternoon. I am very allergic but couldn't find my epipen. Took some Benadryl. My right hand started to swell and by evening, I had to work to get my ring off before serious problems set in. By Saturday morning, my hand was totally swollen and almost to my elbow. What a day I had. It is starting to go down now and my arm looks better. That pretty much was my weekend.
Welcome to Happiness is Homemade Link Party
June is in full swing here. The flowers are beautiful and my Crepe Myrtle is so lovely.  Hurricane season has started here in Florida and with that comes rainy season so everything is beginning to green up and blossom. Hope you are having a lovely June. Here are some features to help with your summer time.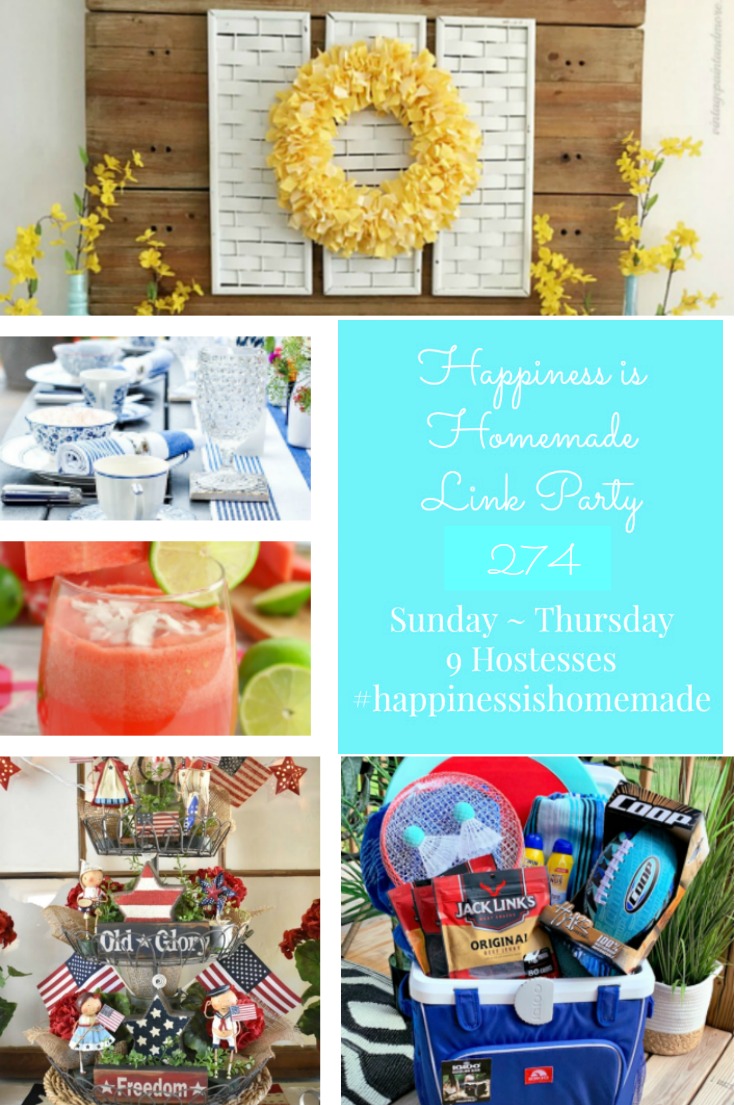 Thursday, June 6, 2019
Welcome to Thursday Favorite Things!
Sorry, I am late with the party. Can you believe that I forgot it was Thursday.
Many of my features come from you my commenters. Don't forget to leave your 
Linkup Number or Post Title
 so I can find you and you could become one of my featured commenters next week.
My Features from last week:
Tuesday, June 4, 2019
Welcome to Wonderful Wednesday Blog Hop!
For me June is off to a much better start than May was. I am getting settled in the new house, even though I still have so many boxes to unpack. At least the craziness of packing and moving is behind me. I am enjoying doing some decorating. I have all of the boxes out of the living room and the bedrooms and only 2 left in the kitchen. I still need to find the rest of my kitchen stuff, but I am sure it is in the garage somewhere.
I hope your June is off to a great start too.
Thank you so much for coming to our party!
Wonderful Wednesday Blog Hop, hosted on 10 popular blogs, features the best recipes, home decor, crafts, DIY, money saving tips, kids fun ... and we want you to take part in it. Just take a look at the features we have for you from last week's party. Aren't they fabulous?
Fabulous Features of the Week
My Pick
So let's get this party started!
We would love it if you followed us on social media and/or come by our blogs to subscribe by email.
Simple party guidelines >>­
Please TWEET our party ♥
Add as many of your family-friendly posts as you would like to. No Etsy shops, adult sites or blog parties, please.
Visit others. Let them know you stopped by!
If you are NEW to Wonderful Wednesday Blog Hop, let us know in the comments so that we can follow you back. ♥ Help us find your posts – tell us the title.
NOTE: party entries appear in REVERSE. i.e. the most recent entry goes to the top! That way all of our guests will have a chance to be seen no matter when they arrive.
Thanks! ♥